Browse Categories

MyCJFallon

Login to your account

Teacher Login

To gain access to your online resources

---

Parent / Student Resources

To gain access to online resources for Parents/Student
Bonne Route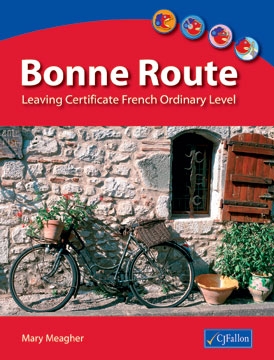 Click to Enlarge image
A Leaving Certificate Ordinary Level French textbook from a best-selling author. The book consists of very accessible material presented within an easy-to-follow structure. A favourite because the books material is pitched exactly at the students ability/level.
Includes two CDs with aural material that is linked to the chapters via listening icons.
Each chapter contains all the key elements of the course, including oral work, aural comprehensions and written expression.
Important grammar points are explained in each chapter in short, easy-to-understand sections, and key words and phrases are included to improve students' use of language and to expand their vocabulary.
A variety of exercises is provided, covering all areas, ensuring that both weaker and stronger students are catered for.
Considerable cultural information is threaded throughout the book, giving a student a sense of French culture and bringing the language to life.
A final section, titled Exam Guidelines, offers students valuable tips on how best to approach each of the main parts of the examination.
Contains a detailed grammar guide, a lexique and a verb table.
Illustrated and in full colour.
320 pages in length.
Author: Mary Meagher