Browse Categories

MyCJFallon

Login to your account

Teacher Login

To gain access to your online resources

---

Parent / Student Resources

To gain access to online resources for Parents/Student
Look what blew into the Zoo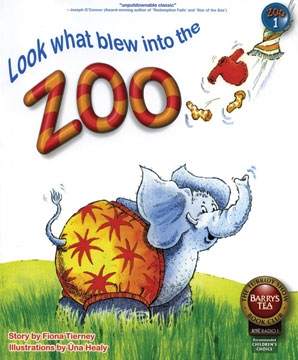 Click to Enlarge image
A story that is sure to please…
of clever animals and a very strong breeze!
When a gust of wind blows a family's washing over their wall and into the zoo, a delightful tale unfolds.  Crammed with exotic animals, fun personalities and plenty of action, this delightful tale contains all the magical elements to stimulate young inquisitive and fun-loving minds.  Beautifully illustrated, it can be enjoyed by toddlers, right through to early readers and is sure to be a bedtime favourite.
First time writer Fiona Tierney and first time illustrator Una Healy join forces to produce Ireland's most exciting children's book in recent times.  Sisters-in-law Fiona and Una both formerly juggled careers and motherhood and have now found the perfect outlet for their creativity – with seven children from 2 to 11 years between them, they have plenty of critics!
Some reaction to the book:
'Wordplay, a basic premise that any child could believe might happen, and some super visuals, combine to make this a cracking "read aloud" book for 3-to-6 year olds. The rhymes are fun, the dressed-up animals are funnier, and it all adds up to a super bedtime read. Writer Fiona Tierney and illustrator Una Healy produce a winning combination.'
John Byrne, RTE Guide – Nov 2006
'I love "Look what blew into the Zoo" and wish I lived next door to a zoo too, I would love to help the zoo keeper to mind the animals and I could visit them everyday. I am always looking around when it's windy to see if something will blow in my garden but only bits of litter seem to blow my way, but I'll keep looking for something good like the animals got. My favourite animal is 'polo bear' because I go to the doctor with lots of sore throats and might have to get my tonsils out so I know how he feels. I wish I had a magic polo neck to make me better.'
Hannah Murphy, aged 6, Drumcondra