Browse Categories

MyCJFallon

Parent / Student Resources

To gain access to online resources for Parents/Student

---

Teacher Login

To gain access to your online resources
Geography Quest 2 – Web Links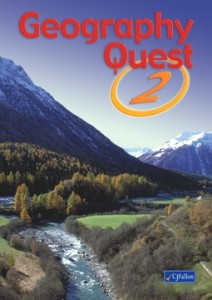 Click to Enlarge image
CJ Fallon has checked the external web links on these pages. We believe these links provide interesting information that is appropriate for children. However, the internet is a constantly changing place and these links may not work or the external web site may have changed. We also have no control over the 'Ads by Google' links, but these should relate to the topic. You are responsible for supervising your children. If you ever find a link that you feel is inappropriate, please let us know immediately.
The

icon identifies a web link that is more appropriate to a teacher, than to a child.
Chapter 1: Keeping in Touch
This is a great site with lots of information on the history of communication: Web Link
Chapter 2: Caring for the Environment
Sort each object into the correct recycling bin: Web Link
Help Kung Fu Trash Master kick the recyclable materials into the recycling bin: Web Link
Chapter 3: What are Homes made from?
A useful site showing different types of homes in Ireland: Web Link
A fun matching game showing homes from different parts of the world: Web Link


Lots of photos of different types of homes/houses. The text is a bit difficult but the photos speak for themselves and should stimulate discussion. Web Link
A few games about 'My Home': Web Link
Chapter 4: Mapping a Story

Lots of printable mazes here: Web Link
Here are a couple of online mazes for you to try out! Web Link 1, Web Link 2
Help Molly find her way around town: Web Link
From Sammy the Seagull's point of view high up in the sky, guess what the objects are down below: Web Link
Chapter 5: The Shopping Centre
Learn more about shopping centres: Web Link
Chapter 7: Directions
A quick game to to help you learn compass skills: Web Link
Help the boy find his way home: Web Link


This is a fun exercise to consolidate pupils' knowledge of cardinal points: Web Link
Chapter 8: At the Seaside
This site has photos of beautiful beaches from around the world – choose your favourite beach and explain why: Web Link
Chapter 9: Clouds, Rain and Wind
This is a fun game – weather symbols are placed on a map: Web Link
Chapter 10: Poland
Lots of information, facts and photos all about Poland: Web Link