Browse Categories

MyCJFallon

Parent / Student Resources

To gain access to online resources for Parents/Student

---

Teacher Login

To gain access to your online resources
History Quest 1 – Web Links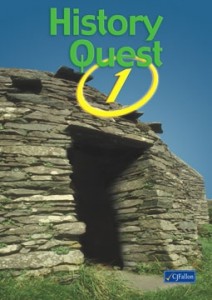 Click to Enlarge image
CJ Fallon has checked the external web links on these pages. We believe these links provide interesting information that is appropriate for children. However, the internet is a constantly changing place and these links may not work or the external web site may have changed. We also have no control over the 'Ads by Google' links, but these should relate to the topic. You are responsible for supervising your children. If you ever find a link that you feel is inappropriate, please let us know immediately.
The

icon identifies a web link that is more appropriate to a teacher, than to a child.
Chapter 1: Seán's Story

Have the children make up a book all about themselves! Web Link
Make a cartoon copy of yourself and then play games starring you! Web Link
Mix and match the hairstyles, eyes, ears, noses and mouths to make a picture of yourself: Web Link
Chapter 2: The Wicked Fairy of Tara

Some traditional Irish stories: Web Link
Chapter 3: The History of My Home
Step back in time… does your house look like this? Web Link
Look at objects around the house that people used long ago: Web Link


Be a house detective: Web Link
Chapter 4: Merry Christmas
A Christmas crossword: Web Link
How Christmas is celebrated around the world: Web Link
Chapter 5: Saint Brigid
Find out about St Brigid's Day: Web Link
Chapter 6: Now and Then
Look at these pictures of people from the past. How do they look different from people in our time? Web Link
Have a look for old pictures of your town: Web Link
Chapter 7: The King's Secret
Plenty of myths and legends to read about here: Web Link
Chapter 8: Let's have fun!
A timeline of 20th century toys and games: Web Link
Lots of games from the past: Web Link
Chapter 9: Saint Brendan
Read this biography of Saint Brendan: Web Link
Chapter 10: The Adventures of Mary Seacole
Learn about Mary Seacole and play a game based on her life: Web Link