Browse Categories

MyCJFallon

Parent / Student Resources

To gain access to online resources for Parents/Student

---

Teacher Login

To gain access to your online resources
Science Quest 2 – Web Links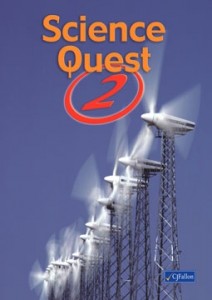 Click to Enlarge image
CJ Fallon has checked the external web links on these pages. We believe these links provide interesting information that is appropriate for children. However, the internet is a constantly changing place and these links may not work or the external web site may have changed. We also have no control over the 'Ads by Google' links, but these should relate to the topic. You are responsible for supervising your children. If you ever find a link that you feel is inappropriate, please let us know immediately.
The

icon identifies a web link that is more appropriate to a teacher, than to a child.
Chapter 1: Lemon Suds

An experiment showing how to make lemon suds: Web Link
Play this scrub-a-pup game: Web Link
Chapter 2: Make a Rainbow

Learn how to decorate walls with rainbows from compact discs: Web Link


Lots of rainbow colouring pages here – print them off and have your class colour them in: Web Link
Chapter 3: High and Dry
Some ways to show the invisibility of 'air': Web Link
Ideas for making wind chimes – a great way to 'see' invisible air move: Web Link
Chapter 5: Balloons Away

Application of the balloon boat experiment: Web Link
Use straws and string to 'direct' the balloon you release… Web Link


More fun releasing balloons – this time using a bendy straw to make them spin in circles: Web Link
Chapter 6: Environmental Care
Play this recycle-against-the-clock game: Web Link


Video about recycling – language is a little difficult for this level but the accompanying images, and familiarity with the subject matter made it easy enough to follow: Web Link
Meet Earthman, Sunny Ray and Moonbeam and a host of other Planetpals on this very child-friendly site: Web Link
Chapter 7: Now you see it… Now you don't!

Nice patterns for 'spinners' or thaumatropes – click on the printable version for a very impressive art/science lesson: Web Link


Another optical illusion toy with a big name! Making a phenakistascope integrates nicely with art and it's also a lot of fun! Web Link
Chapter 8: Waterproof
Play this challenging weather game: Web Link
Have a go at testing different materials to see if they are waterproof: Web Link
Chapter 9: Oil and Water

Experiment to compare the density of objects: Web Link
This site explains how to make a lava lamp using oil and water: Web Link
Chapter 10: Whatever Floats your Boat
Information and experiments all about air pressure: Web Link
Chapter 11: Thirsty Plants and Plant Pipes
Simple game showing how plants need water to grow: Web Link


Variations of the absorption experiment in the book: Web Link 1, Web Link 2