Browse Categories

MyCJFallon

Parent / Student Resources

To gain access to online resources for Parents/Student

---

Teacher Login

To gain access to your online resources
Science Quest 4 – Web Links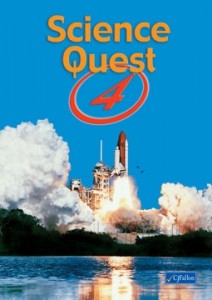 Click to Enlarge image
CJ Fallon has checked the external web links on these pages. We believe these links provide interesting information that is appropriate for children. However, the internet is a constantly changing place and these links may not work or the external web site may have changed. We also have no control over the 'Ads by Google' links, but these should relate to the topic. You are responsible for supervising your children. If you ever find a link that you feel is inappropriate, please let us know immediately.
The

icon identifies a web link that is more appropriate to a teacher, than to a child.
Chapter 1: The Wave Machine

This experiment shows how to make interesting colour mixes with oil, water, food colouring, vinegar etc: Web Link


A variation on the above but this time using milk, glue, detergent and food colouring to make a solid disc of colour: Web Link
Chapter 2: Oak Gall Ink
Read these facts about the Book of Kells: Web Link
Chapter 4: Parachutes

An experiment showing you how to make a parachute. Great fun if you enjoy mess! Web Link


This parachute experiment has some useful tips worth checking out: Web Link


Here are lots of parachute games you can try with your class: Web Link
Read this experiment on how to make a parachute – includes an explanation: Web Link
Chapter 5: Kitchen Chemistry
Have a look at these experiments that use chemical reactions – includes explanations: Web Link 1, Web Link 2
Chapter 6: Brake Time
Scroll down the topic choice list and choose 'friction'. There's lots to see and do here: Web Link
Shows some interesting examples of friction (and friction reduction) from real life – snakes, skates, palms and space shuttles: Web Link
Chapter 7: Get a Grip!

This video shows (and explains) the great tablecloth trick: Web Link
This is an excellent game based on the degree of friction of different materials: Web Link
Chapter 9: A Little Light Work
Read through this easy and colourful guide to electric circuits: Web Link
Play this very simple game that shows the effect of increasing battery voltage: Web Link
Chapter 10: The Hovercraft

A video demonstration of the CD hovercraft – it might help if you are having trouble with the experiment in the book: Web Link
Read about the history of hovercrafts: Web Link
Chapter 11: Blowing in the Wind

Make your own simple anemometer: Web Link
Chapter 12: 3-D Vision
There are some good optical illusion videos on this site: Web Link
Plenty of 3-D viewing illusions (and clear instructions) on this site: Web Link
Chapter 13: The Crusher

Have a look at this video which shows the force of air pressure: Web Link


This experiment shows the relative speed of molecules of water in hot and in cold water. An interesting follow-up to the 'Crusher' experiment: Web Link
Have a look at this hot air experiment: Web Link
Chapter 14: Hear! Hear!
The clapping game with troubleshooting comments at the bottom of the page: Web Link
This site explains echolocation… and has lots of information about bats: Web Link
Chapter 15: Jumping Flames and Explosions
This site has a good video showing sound waves (but it does get a bit complicated as it goes on): Web Link


Learn how to see sound waves while playing music… loudly! Web Link
Chapter 16: Bending Light
A variation on the experiment in your textbook that explores the idea that an object can look different when viewed through glass or water: Web Link
Play this challenging game involving mirrors and light: Web Link
Chapter 17: The Human Cannonball

Another version of the experiment in the textbook, this time using vinegar and bicarbonate soda: Web Link
This experiment shows you how to make rockets rather than human cannonballs. Read comments from other children who have carried out the experiment: Web Link
Chapter 18: Flower Press

Learn how to change the colour of flowers: Web Link
Chapter 19: Water Pressure

Another version of the water pressure experiment in the book: Web Link
Some information and images of Marianas Trench: Web Link