Browse Categories

MyCJFallon

Parent / Student Resources

To gain access to online resources for Parents/Student

---

Teacher Login

To gain access to your online resources
Hello Universe!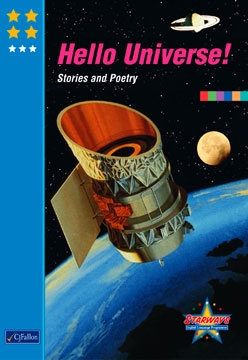 Click to Enlarge image
This is a collection of twenty stories and twenty-four poems. The twenty stories are: Councillor Evans, Destruction, By moonlight, Hired!, America, here I come!, Welcome to Thompson Park, Movietone News, Fagin's trial, The soldier who did not wash, Who's afraid?, A pack of lies, Danny, New books, Revenge, The ghost of Thomas Kempe, Mother, The Visitor, A lesson in reading, A great law of human action and First confession.
The poems are: They Call to One Another by George Barker, Childhood by Frances Cornford, The Beach by W Hart-Smith, Mrs Lorris, Who Died of Being Clean by Barbara Giles, The Strand by Seamus Heaney, Solid Water by Julie Holder, Dear Mr Examiner by Gareth Owen, Change by Charlotte Zolotow, The Man He Killed by Thomas Hardy, First Fig by Edna St Vincent Millay, Circle by Alan Bold, Patterns by Olive Dehn, Think Carefully Before Reading This by Andrew Darlington, The Mouse by Elizabeth Coatsworth, Alabama by KHE-THA-A-HI (Eagle Wing), Measles in the Ark by Susan Coolidge, from An Essay in Criticism by Alexander Pope, from Elegy Written in a Country Churchyard by Thomas Gray, Nature Study by Moira Andrew, Until I Saw the Sea by Lilian Moore, I'll Never Use Tobacco by Anon, The Lake Isle Of Innisfree by William Butler Yeats, I Have A Dream by Leah Waldron (11) and What Peace And War Are To Me by Kevin Hawkins (11).