Browse Categories

MyCJFallon

Parent / Student Resources

To gain access to online resources for Parents/Student

---

Teacher Login

To gain access to your online resources
Master Your Grammar 6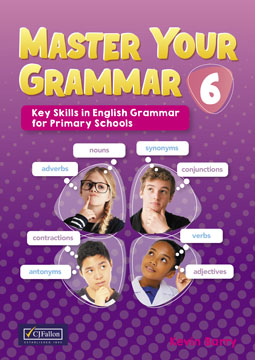 Click to Enlarge image
The Master Your Grammar series is an indispensable resource for any primary school classroom. Designed in attractive, vibrant double‑page spreads, the series aims to improve every student's understanding of the fundamentals of English grammar.
Key elements of the series include:
a wide and varied number of interesting and compelling activities that can be used independently or in conjunction with any English programme a school may be using.
clear and concise work on capital and lower case letters, alphabetical order and vowels.
age-appropriate exercises on homophones, homonyms, synonyms and antonyms.
extensive work on punctuation marks, compound words and regular and irregular verbs.
explanations and activities on all key areas of grammar – the different types of nouns, adjectives, adverbs, conjunctions, contractions and many more.
revision units after each group of six units – to aid consolidation.