Browse Categories

MyCJFallon

Parent / Student Resources

To gain access to online resources for Parents/Student

---

Teacher Login

To gain access to your online resources
Parents' Guide to the Secondary School Years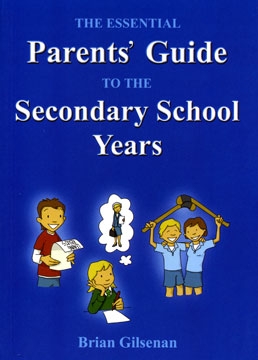 Click to Enlarge image
The Essential Parents' Guide to the Secondary School Years
An invaluable book for every parent who wants to ensure that their child gets the most from their Secondary School years.
This book has been written to help parents deal with all of the major issues that they are likely to face during their children's time at Secondary School in Ireland. The book covers everything from handling the step up from Primary School to Secondary School, Transition Year, career guidance and study techniques, in addition to a description of the major examination subjects.
There is a natural requirement by all parents to understand and get closer to the secondary school system. Parents can feel much less involved when their children reach secondary school compared to their primary school years. Communications with teenagers can become strained, there is far less direct contact with the secondary school for a parent and yet the desire amongst parents to help their children is stronger than ever. While the stakes are higher and the pressure to conform is greater, the amount of information available to parents about what actually goes on is pretty meagre. This book succeeds in bringing all the complexities of life in secondary school into an easy to read and highly informative book.
The book is full of interesting articles, written by a panel of experts. There are three excellent articles dealing with adolescence, written by Dr. David Carey (Froebel College of Education) including a fascinating article on so-called 'hidden learning disabilities', which only appear in some students in their Secondary School years. Brian Mooney (President of the Institute of Guidance Counsellors) has contributed useful articles on Career Guidance and Transition Year. There are descriptions of each of the major subjects at both Junior and Leaving Cert level, an article on how to ease the transition from Primary School to Secondary School, advice regarding bullying and a very helpful chapter on study techniques.
Ultimately, it is hoped that, as parents, you will have a better understanding of:
What children are learning in Secondary School
How they are being taught
Your vital role in the education of your child