Browse Categories

MyCJFallon

Parent / Student Resources

To gain access to online resources for Parents/Student

---

Teacher Login

To gain access to your online resources
NEW MICRA-T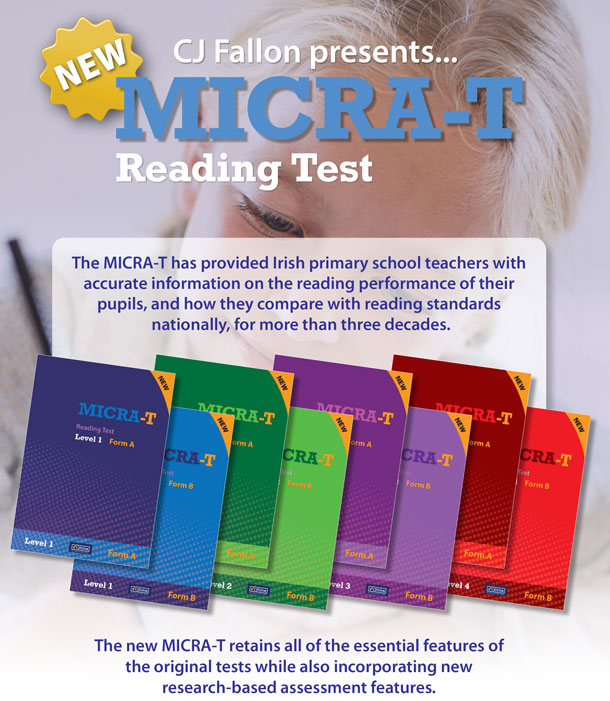 ---
The NEW MICRA-T was developed in Ireland by reading and assessment experts to reflect the contemporary research on how children progress from 'learning to read' to 'reading to learn'.
The tests are carefully constructed to ensure that test difficulty levels are suitable for children of all reading abilities.
The tests were standardised in the autumn and summer using two nationally representative norm samples, allowing flexibility in administering the tests.
Class-based and age-based standard scores are reported, which may be interpreted using percentile ranks and STEN scores.

 

Alternative forms are available at each level to facilitate group administration of tests.
The tests are accompanied by clear and user-friendly administration instructions, technical manuals, and scoring stencils.
The tests were created to reflect the New Primary Language Curriculum.
An online digital scoring system is also available.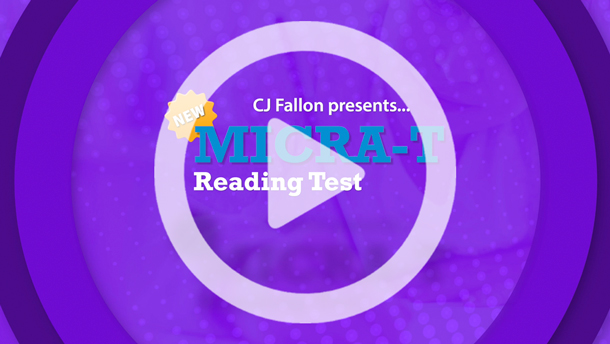 What is new about NEW MICRA-T?
Fresh, relevant and modern content that is drawn from various genres (fiction, non-fiction, informational text, poetry, etc.) to provide authentic and engaging reading tasks for pupils.
Sub-scores are provided in the following key areas to allow teachers to look beyond the total test score to evaluate specific areas of strength and weakness:

 

Phonological Processing: (Level 1)
Word Recognition: (Levels 1 & 2)
Reading Vocabulary: (All Levels)

 

Reading Comprehension: (All Levels)
Focusing on and Retrieving Explicit Information: (All Levels)
Making Inferences: (Levels 3 & 4)
---
The NEW MICRA-T is designed and constructed as a vertically aligned assessment system. This new architecture allows CJ Fallon to provide metrics so that teachers can monitor pupils' reading growth over time and across class levels, from the start of 1st class to the end of 2nd class and from the start of 3rd class to the end of 6th class.