Browse Categories

MyCJFallon

Parent / Student Resources

To gain access to online resources for Parents/Student

---

Teacher Login

To gain access to your online resources
CJ Fallon collaborating with Microsoft to bring Minecraft Education resources to Irish classrooms
Excitement is building among the young Irish digital innovators of the future…. on Saturday they were able to showcase their creations in the Coolest Projects event in the RDS.
Two such teams of future Irish innovators are Sinead Herlihy's 3rd and 4th Class from C.B.S Primary Michelstown in Cork and Tony Riley's class from Lacken NS in Cavan. These classes have embarked on an exciting journey into distant Antarctica. While Tony's class have been busy making an airstrip and building a research centre at the Rothera Research base on Adelaide Island, Sinead's class have travelled back in time to work as a team to erect Tom Crean's Discovery hut and build the ship that brought the explorer to Antarctica!
This immersion into the magical world of Antarctica is part of an exciting collaboration between Microsoft's Minecraft Education Edition and CJ Fallon.
Microsoft have teamed up with CJ Fallon to bring curriculur aligned resources based on the world famous programme into Irish classrooms. The 140 million subscribers to Minecraft around the world will already be aware of the learning and fun involved in using the programme. Now, for the first time the fun and collaboration inherent in Minecraft is being linked directly to the Irish Primary school curriculum. This is a major development in the way ICT can be used in the classroom.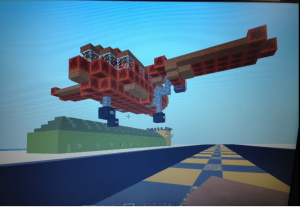 For pupils the benefits are obvious…. the SESE curriculum is brought to life. CJ Fallon have built the worlds in which the pupils will explore and create. These worlds have been carefully aligned to the SESE curriculum strands. They include Antarctica, Animal Kingdom, Qin Dynasty, Geography of Ireland, among others. As the class navigate and build within these worlds, they cross interdisciplinary strands of the curriculum, they work as a team in a project based way, and just as importantly – they have fun.
As all teachers know, planning, preparation and assessment are the backbone of every successful lesson. To this end, CJ Fallon are providing lesson plans, assessment tools and cuntais miosula to accompany the programme. The fact that the worlds are prebuilt by CJ Fallon ensures that teachers with ranging levels of digital expertise can provide an immersive and engaging lesson, one that challenges a class, not only in ICT, but in everything from social skills to literacy and mathematics. The teachers' resources that accompany this curricular aligned Minecraft Education Edition give the teacher a finished project that is tangible, something that can be easily presented for assessment.
The programme has been specially aligned with CJ Fallon's Small World, but can be used with any SESE textbook series.
Tony and Sinead's classes have completed some great research and created some amazing artefacts in the Antarctic world while working on the prototype of this curriculur aligned Minecraft Education Edition – they showed their finished projects at the Coolest Project event.  To find out how your class can get involved in next year's nationwide piloting of the Minecraft Education/ CJ Fallon programme, click here.