Browse Categories

MyCJFallon

Parent / Student Resources

To gain access to online resources for Parents/Student

---

Teacher Login

To gain access to your online resources
Active Science 2nd Edition (Pack)
Active Science 2nd Edition is an updated and streamlined package for the Junior Cycle Science course. Now in A4 format, it follows an inquiry-based approach with an emphasis on investigative and problemsolving activities. Reflecting the most recent examinations, this new edition covers the Learning Outcomes throughout.
The Active Science 2nd Edition package includes:
A comprehensive textbook.
A Workbook and Activities Book, with CBA documents.
A Teacher's Resource Book.
Numerous online resources.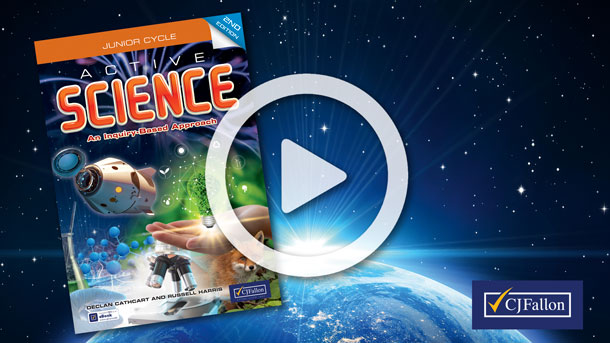 Features of the Student Textbook
Active Science 2nd Edition is divided into four main sections, corresponding to the following four strands:
Physical World
Chemical World
Biological World
Earth and Space
The fifth strand, Nature of Science, is addressed in the introductory chapters and runs throughout the book.
The main features of the textbook are:
Learning Intentions are positioned at the beginning of each chapter.
Streamlined and up-to-date content.
Reflects the Junior Cycle Examination of 2019 and official sample questions.
Wide range of Inquiry Activities in each chapter, allowing teachers to choose the activities that suit their needs and preferences.
Laboratory investigations allow students to design their own experiments, develop good scientific habits, and help foster imagination and creativity.
Many activities encourage the use of a variety of media. Projects, debates, role-play and creative writing opportunities are used throughout.
Encourages students to become skilled problem-solvers and critical thinkers working as part of a group or independently.
Allows students to develop the key skills of the Junior Cycle, including literacy and numeracy.
Issues relevant to society, the environment and sustainability are tackled in an accessible manner.
The main features of the Workbook and Activities Book are:
Includes a comprehensive guide to the Classroom-Based Assessments, with guidelines, planning advice checklists and planning organisers to aid students in their preparation for this part of the course.
Additional questions, Inquiry Activities and Interpreting Scientific Investigations sections are closely linked to corresponding chapters in the textbook to consolidate learning.
Teacher's Resource Book
The main features of the Teacher's Resource Book are:
Provides background information, suggestions and additional resources to assist in organising activities in the classroom and the laboratory.
Includes answers to selected questions from the textbook and Workbook and Activities Book.
Features a Scheme of Work, with blank editable templates.
Includes student CBA guidelines, planning advice checklists and planning documents.
Detailed learning outcomes for each chapter of the student textbook.
Details on Collaborative Learning in the classroom and laboratory.
Online Resources
The main features of the online resources are:
Detailed PowerPoint presentations.
Editable Schemes of Work to aid planning.
Demonstration videos by the authors.
Blank CBA planning documents and Laboratory Report template.
Weblinks linked to chapter content.
Additional Inquiry Activities.
---
About the Authors
Between them, the authors have nearly 50 years' experience in teaching science.
Russell Harris is a Science and Physics teacher at Temple Carrig School, where he is Deputy Principal. He has also taught Space Science in Transition Year for many years. He is the author of Doodle Physics for Leaving Certificate students, also published by CJ Fallon.
Declan Cathcart teaches Junior Cycle Science and Leaving Certificate Biology at Temple Carrig School, and teaches an advanced practical course in Biotechnology for Transition Year students. In addition, he is a part-time lecturer in Science Education at UCD and works with the Professional Development Service for Teachers (PDST). He is also the author of Biology Extra! for Leaving Certificate students, published by CJ Fallon.
---