Browse Categories

MyCJFallon

Parent / Student Resources

To gain access to online resources for Parents/Student

---

Teacher Login

To gain access to your online resources
Living Geography (Pack)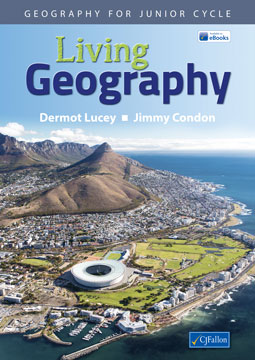 Click to Enlarge image
Incorporating project and team work, this exciting new textbook by highly experienced Geography teachers – Dermot Lucey and Jimmy Condon – addresses the curriculum in a vibrant, dynamic and skills-based way. The new specification for Junior Cycle Geography promotes 'structured inquiry' and an interactive approach to learning.
Features of the Textbook include:
Key geographical skills
Learning outcomes (LOs) unpacked into units of work and aligned to the new specification
Non-linear approach
Geoliteracy
New and up-to-date 'Focus on' feature
Mind-map summaries for each chapter
Dedicated chapters on classroom-based assessments
Inclusive content for all students, with extension activities for more able students
Well illustrated, with up-to-date images, maps, aerial photos, tables, graphs and infographics
Sample pages
To view, randomly selected sample pages from the textbook, as a (61·5mb) PDF, please click here.

Features of the Workbook include:
Student checklist of topics covered to help them prepare for the final examination
Variety of both summative and formative assessment strategies
Sections focused on both classroom-based assessments
Reflective learning log called Map My Learning Journey at the end of each topic to help with the reflective aspect of the assessment task
Questions focused on geographical skills and geoliteracy (interactions, interconnections and implications)
Lots of questions on visual sources in order to develop key geographical skills, such as data analysis
Differentiated questions suitable for all students
Teachers' Resource and Planning Book includes:
Unit-of-work plan
A scheme-of-work planning guide
Digital resources section
Active teaching methodologies and differentiation strategies
Links to JC Key Skills and Statements of Learning
About the Authors:
Dermot Lucey is a highly regarded and experienced Geography teacher, and the author of a number of successful textbooks.
Jimmy Condon is an experienced Geography teacher and examiner who has taught in the Irish, Australian and English educational systems. He currently teaches in St. Colman's College, Fermoy, Co. Cork.